---
To better server your health needs,
Salt Valley Chiropractic has joined forces with Utah Chiropractics to bring you


Not near Layton? Check out our other locations by clicking above.
---
---
Automobiles are designed to crumble,
YOU ARE NOT!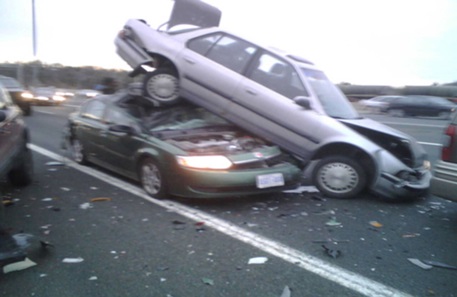 Believe it or not, everyone involved in this accident, walked away with only minor injuries.
OR DID THEY?
With the adrenaline rush from the accident, most parties are occupied with the accident itself and whether anyone requires any immediate emergency help, as they should be.
Just because someone didn't need emergency help, it doesn't mean they don't need help.
If you have been in an auto accident we are here to help. Whether you are at fault or not, you should be checked out by a doctor. Dr. Sarchenko will carefully and thoroughly review your condition to determine how much and what type of treatment you need.

No matter who's fault the auto accident was, you usually will not have to pay us for your care! How is that possible? We will bill the auto insurance company for you. Each person in Utah has medical coverage in their Auto Insurance policy and they will not raise your insurance premiums for you using it.

Did you know that you can get whiplash even in a 5 MPH accident?

Some symptoms of whiplash include:

Neck or back pain, sore muscles or muscle spasms, difficulty moving neck, radiating pain into the shoulders, and more.

Pain pills can hide the pain, but Chiropractic can fix the problem and restore the bodies from auto accident injuries.

Call today for a consultation 801-784-7104 and see how we can help recover the right way.
---